Testimonials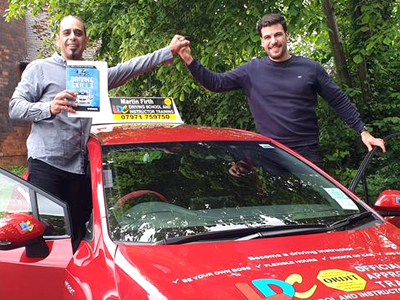 Lucas Philippou
Part 3 pass at the 1st Attempt
I would like to express my appreciation to the entire LDC team, without the support and the assistance I wouldn't be able to meet my goals. Choosing LDC for my training and franchise was the best decision I have made. I cannot recommend them highly enough. Martin acted as my trainer/mentor, with his knowledge and expertise help me through my Part 2. The support and guidance I had from him for my Part 3 was priceless, he played a significant role on delivering the eco-efficient driving topic. Anyone who would like to follow a career as a driving instructor should consider Martin as a trainer. A special thanks to Linsey Burns for her help. Looking forward for an exciting long collaboration with the LDC team.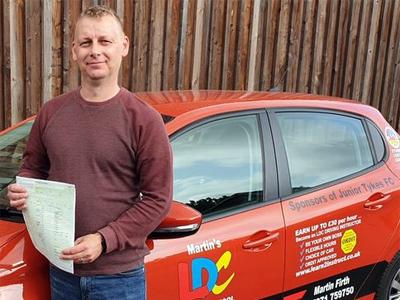 Alex
A big thank you to my Coach Martin Firth for organising two days of training in the run up to me 'going live' as a PDI on a trainee licence.
Day one involved observing Martin using the workbook and the LD system to deliver two lessons to learners who were both relatively new to driving and as such the focus was on understanding clutch control, steering fundamentals and the handling of basic junctions.
Day two involved me building on Martin's work by delivering a 2 hour lesson to one of the learners (with Martin in the back giving me feedback at regular intervals). It was my first ever attempt at giving a driving lesson, and it felt so good putting the knowledge I have built up over the weeks into practice! The experience was fantastic and gave me so much confidence for when I actually started tutoring my own learners.
For all other PDI's who are on the journey I would highly recommend going down this route in the run up to actually tutoring with your own learners, your confidence and learning will benefit no end! The experience gave me more confidence to go on and pass my part 3 test at the first attempt. I still have alot to learn even though I am fully qualified but knowing I have LDC to continue supporting me is a weight off my shoulders. Thank you so much to all at LD office.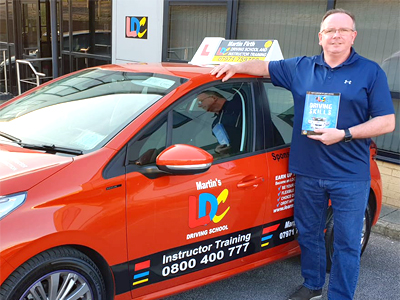 Ron Lidstone
Lets start off with a BANG – Training with Martin enabled me to pass my ADI Part 3 Test first time (not bragging much but I got an A and 46 Points).

I could let Martin take all the credit for this (well nearly all of it). But I also owe my success to the LD system which enabled me to prepare and practice for all parts of my training. Afterall, this is what we'll be using ourselves when we become ADI's. The Online theory and Hazard perception software, along with the LDC Driving skills workbook and DVD were crucial and complemented Martin's instruction. So good is the LDC Driving Skills workbook, it became a vital resource and I even used it to amplify a teaching point during my Part 3 Test.

My training with Martin started about 8 months ago and I wasn't in too much of a rush, as the plan was to become a qualified ADI a few months prior to finishing my 35-year career in the RAF. So, there I am thinking I'm this formidable driver and king of the road. Half an hour into lesson one, Martin pops this bubble when I realise, I'm AWFUL. The thing I really like about Martin is that he lets you know this in such a nice way that you're not left feeling completely humiliated. Following some practical demonstrations, I very soon righted the bad habits and started to drive properly. Before long Part 2 test was out of the way, and was on to the serious business of Part 3 Training.

Ideally, I would like to have gone onto a Trainee licence, and Martin and I discussed the pros and cons in quite some depth. However, due to the fact I worked in North Yorkshire and lived in South Wales, we decided that going onto a Trainee licence wouldn't be the best option as this would mean I'd be training under licence away from my home. Because of the distance, I only went home every other weekend, and Martin very kindly coordinated my training over the weekends that I stayed in Yorkshire. I know that this was a big ask for Martin to fit my training around his weekend commitments and family and is a mark of how committed and professional he is as an Instructor. For this Martin, I'm extremely grateful. I still recall the weekend in Winter when we had a training session straight after you'd got in after coaching your Youth football team and were frozen to the bone. After a quick coffee, off we went for a 3-hour driving session.

Planning my lessons was a two-way partnership, and each was structured in such a way that best suited me and my development. Martin exudes confidence and his ability to drive as a learner driver is something to behold. His wealth of experience enabled him to demonstrate so many situations that I very quickly felt like the instructor and not the student.

I believe that getting the right instructor is crucial for success. For me, Martin easily adapted his teaching to meet my learning style, and again, I'm extremely grateful for this. I would highly recommend Martin to any potential PDI or learner driver. Never critical or impatient no matter how serious the error in judgement was. Every mistake, error or situation was always made into a positive learning point or experience. Although I might not have always had faith in myself, not once did you in me. I'm still left a bit bewildered on how I passed so high and at the first attempt. For you I know that it was always your plan and goal. Thank you so much Martin for being such an exceptional Mentor, Coach and Instructor. You made my journey to become an ADI such an enjoyable and pleasant experience. I'll see you again in the future when I prepare for my first standards check. I cant think of anyone else who I'd want to be my Coach.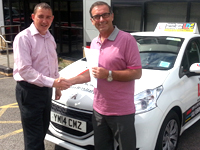 Nando Langton
Martin has been my Instructor throughout my training on my quest to becoming a DVSA approved driving Instructor. His patience and temperate manner have made it a pleasure to work with him. His knowledge and methods are second to none and I would have no hesitation in recommending him to any aspiring driving instructor or indeed just anybody wanting to learn drive. Many thanks Martin and LDC it really was pleasure.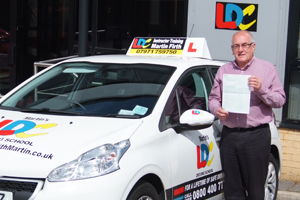 Alan Stevens
Part 2 & 3 instructor training
Training with Martin was always in a relaxed calm and professional atmosphere. We also had some fun along our journey of 50 hours (10 for part 2 training and 40 for part 3). Martin supported me through some difficult sessions
The LD system for instructor training is thorough, all the training materials are well presented and easy to follow. The DVD's supplied are excellent and support your development throughout. They prepared me for the part 1 Theory, supported with the part 2 practical driving skills, and were outstanding with the part 3 Instructional techniques. The LD system - is proven to work and one I feel passionate about.
I would highly recommend Martin for your instructor training.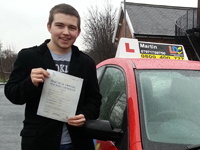 Elliott
I am so glad that I found Martin to teach me to drive. I felt totally at ease with him and he made each lesson enjoyable and purposeful. Martin didn't just teach me to pass a test, he taught me how to drive confidently and safely. I would recommend Martin to anyone who is looking for a good-humoured, professional driving instructor.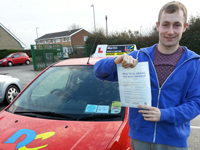 Nathan
I enjoyed learning to drive with Martin and found him very patient and reliable. I found Martin was really helpful and listen carefully when we were talking about various things. I also thought the car was brilliant to drive so found the whole experience very enjoyable, made even better by the fact I passed on my first attempt. I would recommend my Instructor to anyone wanting to learn to drive, thank you so much.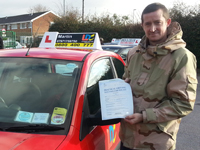 Chris
I spent many years avoiding learning to drive, until a friend of mine mentioned she knew an Instructor at LDC called Martin. I gave him a call and before I knew it I was getting on with Lessons and Theory Test. I had a renewed enthusiasm learning to drive and found Martin very understanding. Less than three months after contacting Martin I have a full Licence, I still can't quite believe that I left it so long to learn. I would highly recommend Martin to anyone wanting to learn to drive. Thank You so much mate.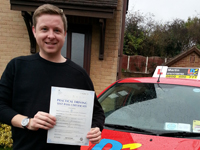 Alex
I took a semi-intensive course with LDC. The course was great value for money and they provided me with DVD's and a work book to track my progress which really helped. My instructor Martin Firth got me to test standard within a week, he was very patient and understood my learning ability from the start. The only thing that prevented me from passing first time was my own nerves, the best thing to do is relax and not get worried about the test. 10/10 to LDC.
Hannah
Passed at 1st attempt - 3 minors
Martin was a fab instructor and I would highly recommend him as a tutor. For me he was my third instructor, and I didn't realise there was a lot I still didn't know until getting in a car with him. He's patient and teaches you exactly what you need to know! We set a deadline and he easily made my target. Passing first time would not have happened if it wasn't for the help I got from martin. He is highly committed and will not disappoint you in anyway.
Chantelle
Passed at 1st attempt - 5 minors
I really enjoyed my driving lessons with Martin, looking back when I first started I was scared at the thought of getting behind the wheel of a car, now I am so confident in the car I am already planning a day trip to the coast, thank you so much.
Nathan
Passed at 1st Attempt - 4 minors
Having failed my test twice before with another instructor I gave up, I gave it another go a year later when my mum encouraged me to try LDC. Martin came and did an assessment, four weeks later I passed my test first time with only 4 minors, I was well chuffed, talk about patient he was definitely much better than my last instructor, cheers for everything .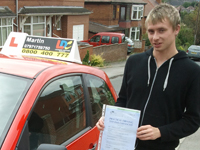 Gareth
Passed first attempt Extended test - 2 minors
I had already passed my test a year and a half ago but after letting my driving standards go I ended up with a ban of two years, Lesson learned I had to retake my Theory and an extended driving test which lasted over an hour, Martin showed me a different way of improving my driving skill some of which have opened my eyes to the dangers and problems that can be created by new drivers, thank you for not being critical of my past I really appreciate everything you have shown me.
Call today on 07971 759750 or Email me to find out more
If you have any questions or to book lessons today, feel free to contact me